Fitness enthusiasts, rejoice! The Adjustable Nordic Hamstring Curl Strap with Kneeling Mat has arrived to revolutionize your workout routine. Thanks to its thickened steel center pole and sturdy nylon straps, this rugged device goes above and beyond when it comes to safety and support. With a weight capacity of up to 400 lbs, this strap ensures ultimate stability during your hamstring curl exercises.
When performing hamstring curls, proper form and stability are critical to maximizing results and minimizing risk of injury. Adjustable Nordic Hamstring Curl Straps take security to another level. Its thickened steel center pole promises unwavering durability and stability so you can focus on your workout. Paired with a sturdy nylon strap, this strap ensures a secure hold and eliminates any instability concerns, allowing you to push your limits with confidence.
If you're looking for a hamstring curl strap that can hold a lot of weight, look no further. This Adjustable Nordic Hamstring Curl Strap is designed for intense workouts and can hold up to 400 lbs. Whether you're a professional athlete or just starting your fitness journey, this strap is up to the challenge, giving you the stability you need while you focus on strengthening your hamstring muscles.
The stable Nordic curl strap is engineered to optimize your performance. Its central stem is made of thickened steel to ensure the integrity of the strap and prevent any unwanted bending or warping. Plus, the sturdy nylon strap keeps your foot or ankle securely in place during even the toughest workouts. You can trust these straps to provide the stability and security you need to achieve your fitness goals.
Upgrade your hamstring curl workouts with the Adjustable Nordic Hamstring Curl Strap. With its thickened steel center pole, strong nylon strap and superior weight-bearing capacity, the strap promises unrivaled security and support.
Nantong July Fitness&Sports Co., Ltd. located in Nantong City, Jiangsu Province, China, is specialized in sports and fitness products. With more than 12 years industry experience, in-depth supply chain integration, July sports has own reliable and stable raw material suppliers and first-class production base. Our company also produces adjustable nordic hamstring curl strap with kneeling mat, if you are interested in our products, you can contact us.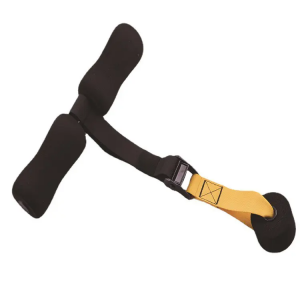 ---
Post time: Sep-07-2023